Mobile casino or Web version – Which is the best?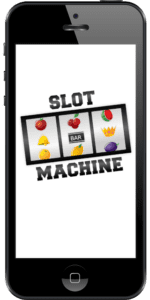 Many believe that the mobile casino version and gambling apps are the future of the iGaming industry. At casino-or-slot, we prefer saying that mobile slots and casino apps are the present! We must admit that at the beginning it was not easy for us to gamble online with our smartphone. We had our own habits, and we really enjoyed sitting in front of our laptop, spinning on high bet our favorite slot. However technological advances caught up with us and our computers!
Even nowadays, some diehard gamblers still fail to have fun on a mobile casino, even if generally speaking an increasing number of players prefer the gambling experience provided by a phone casino. A study published by the UK Gambling Commission in early 2018 revealed that in England more and more gamblers play from their smartphone. In 2016 they were just 46%, whilst in 2017 they were 51%. According to the stats, web version casino players or even the hybrids (those who alternate between playing on mobile casino and on web version) are generally those who bet the most, they are true high rollers!
So, what are the advantages and disadvantages of these two casino platforms? That's what we're going to find out.
Advantages of playing on a phone casino via the mobile version or gambling apps
Gamble anytime, anywhere. You are out and have free time, the only things you need are a fully charge phone battery and a good internet connection to be able to bet on and spin the reels of some mobile slots. A few years back, once we had left our home without our computer, it was practically impossible to gamble online! Nowadays, thanks to mobile casino, it is much easier to bet. We would like to use this opportunity to remind you to play responsibly and to set up some deposit limits or even self-exclude if you feel you are spending too much or lack control on your playing habits.
You no longer need to monopolize the family computer!
It makes space for discretion. With our phones, we may play casino in a more discrete manner. As a matter of fact, if you play on a computer anybody passing behind you can see it, while you are the only one who knows what you are doing on your mobile phone.
Some slot providers design games especially for mobile. This is for example the case of the NetEnt range of ''TOUCH'' games which are pure mobile casino games.
Advantages of gambling online from the web or the desktop version
It is a fact, on the major proportion of online casinos the number of slot machines and casino games offered in the web version is more important than that of those offered in mobile version. Even the slot apps of the most prestigious casinos still lack a portfolio as large as that offered on their web version.
On casino desktop versions, it is sometimes possible to play on numerous slots at once! On mobile, one must unfortunately limit themselves to playing just one slot at a time. Our team of high rollers are still waiting for the first mobile casino which will offer players the opportunity to play on several slots at the same time!
From the desktop version HTLM5, one can benefit from the information and widgets offered by the casino around the game in its lobby, you can even receive messages in real time crm such as achievements or the bonuses you have earned by playing. On the mobile version, the game takes up the whole screen which means that by playing you are disconnected from the casino lobby.
So which one to choose, mobile casino or desktop casino version?
We think that there is no need to choose between the mobile and web version. The present is mobile, and the future will be even more. It is true, like we have mentioned above, that the mobile versions of online casinos are far from perfect and still require various improvements from a technological point of view. On the other hand, given the stakes of mobile gambling, the phone casino is a priority for the vast majority of operators. As a matter of fact, they do not hesitate to invest large sums of money to provide gamblers with increasingly efficient mobile versions and even casino apps (iOS, Android and outside the store). They all share the same goal: becoming the best mobile casino and offering the best gambling apps. It seems obvious to us that betting from a traditional computer is habit which is dying out!
https://casino-or-slot.com/wp-content/uploads/2018/12/casino-mobile-or-desktop-version.png
733
771
julie
https://casino-or-slot.com/wp-content/uploads/2018/07/Logo-Transparent.png
julie
2018-12-04 20:51:45
2018-12-05 21:28:16
Mobile casino or Web version – Which is the best?